Hi friends!
I made this cauliflower "fried rice" last week for dinner and I am now obsessed. I adapted this recipe I found on Pinterest. Topped with avocado and paired with some baked salmon, it made a delicious and healthy dinner. Since I was worried my husband wouldn't really like it, I made a side of sushi rice for him, just in case. However, I think we were both pretty surprised how much it actually tasted like fried rice. I used Bragg Coconut Amino Acids instead of regular soy sauce & frozen edamame instead of green peas and was so happy with the results.
Cauliflower fried rice for even better leftovers…
This cauliflower fried rice was delicious the night of, but it was also just as good the day after for lunch! Even better, this dish is super quick and easy to throw together, especially if you buy some prepped veggies. For example, it is easy to make your own riced cauliflower, however, you can find it at most grocery stores these days. This will definitely be one of my go-to recipes from now on.
Have you made any Very Allegra recipes?! If so comment below and/or tag me on instagram @VeryAllegra!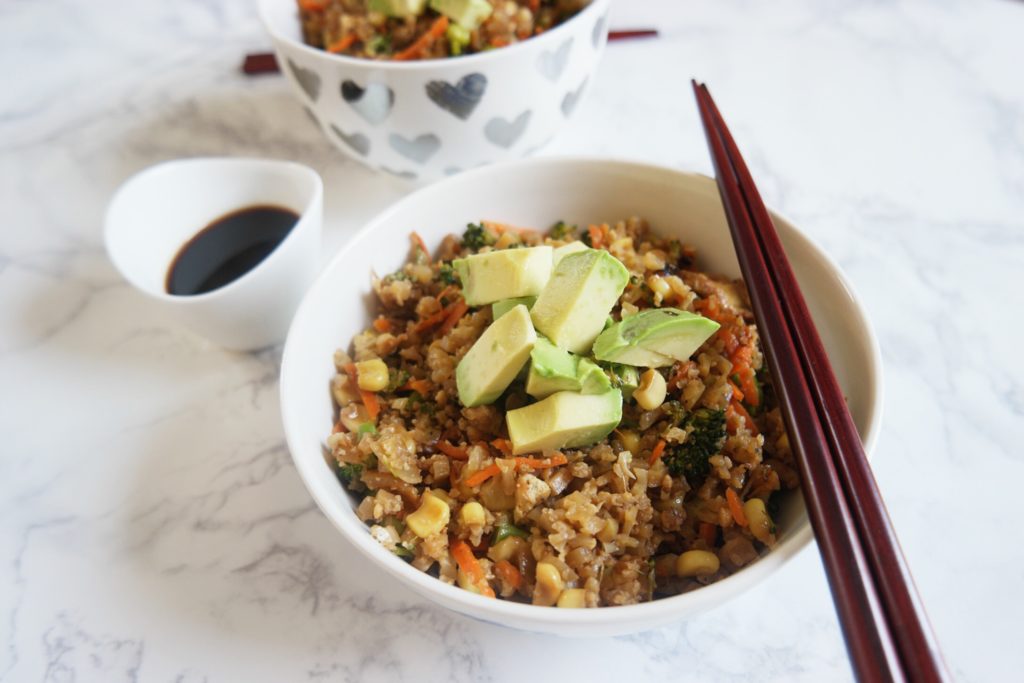 Cauliflower Fried Rice
2017-04-27 15:11:08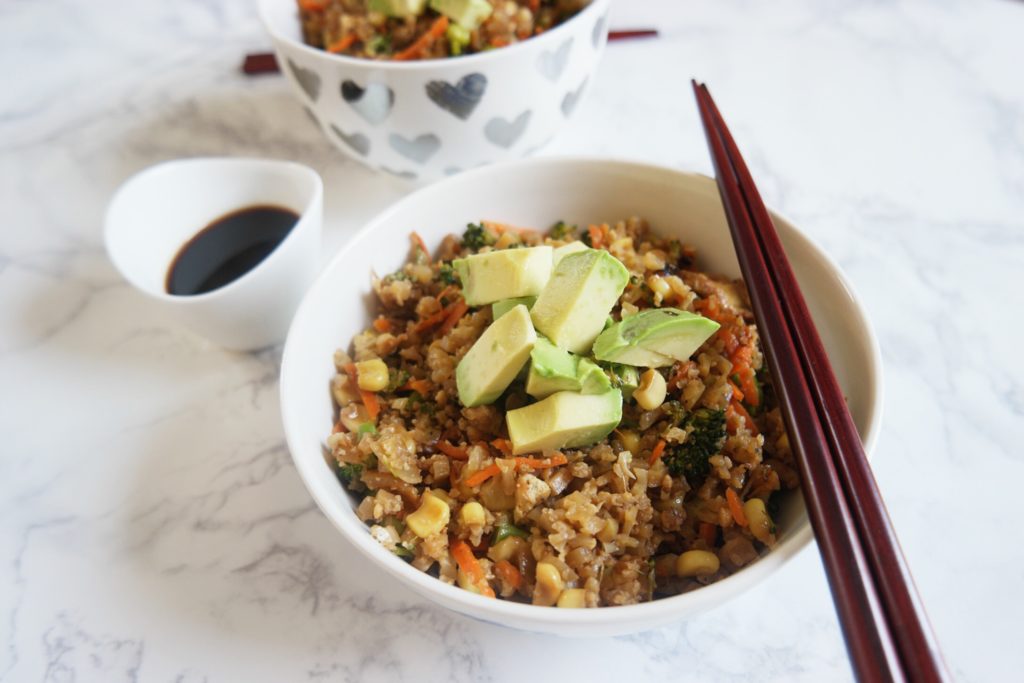 Serves 4
A very healthy take on your typical Chinese fried rice with all veggies.
Ingredients
5 cups riced cauliflower
4 Tbsp coconut amino acids (or soy sauce if you prefer)
2 Tbsp sesame oil
1 Tbsp freshly grated ginger
1 tsp ground ginger
1/4 fresh cracked pepper
2 Tbsp safflower or avocado oil
3 large eggs, beaten
1-2 tsp minced garlic
1/2 cup diced onion
1-2 cups broccoli florets, chopped
3 carrots, peeled and grated
1/2 cup frozen corn
1/2 cup frozen edamame
Instructions
In a small bowl, whisk together coconut amino acids, sesame oil, ginger, & pepper. Set aside.
Heat 1 Tbsp of safflower or avocado oil in a small or medium skillet over low heat. Add eggs and cook until cooked through about 2-3 minutes on each side, flipping only once. Let cool before cutting into small pieces; set aside.
Heat remaining 1 tbsp of oil in a large skillet or wok over medium-high heat. Add garlic & onion to the skillet, and cook, stirring often, until onions become translucent, about 3-4 minutes.
Stir in broccoli, carrots, corn, edamame & cook, stirring constantly, until veggies are tender, about 3-4 minutes.
Stir in cauliflower rice, eggs, sauce mixture. Cook, stirring constantly, until heated through and cauliflower is tender, about 3-4 minutes.
Serve, top with avocado.
Notes
This is a also great topped with baked salmon.
Adapted from Damn Delicious
VeryAllegra https://veryallegra.com/
Shop My look