Photography by Alana Harris
Plate: Avenue Pottery

Happy Friday friends!
I am looking forward to a family filled weekend at my parents' ranch. We will be celebrating my niece's first birthday and taking our fam Christmas card with Alana. I will also be shooting some looks with her while she is there so I am super excited.
These Vegan Pumpkin Pie Bites…
If you are a fan of pumpkin & enjoy healthier desserts. You should make these little pumpkin "cheesecake" bites. I think they are so tasty without all the extra "guilt". I'm not going to lie I have even had them for breakfast. I keep them in the freezer but let them thaw out for about 15 minutes before eating.
The Recipe…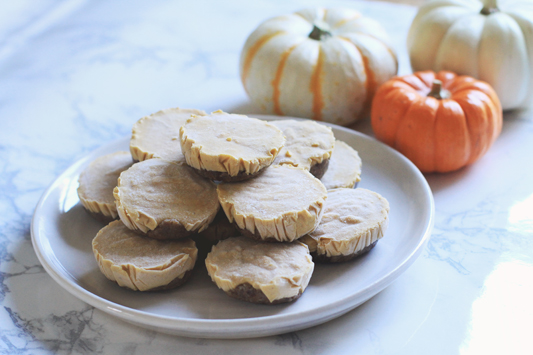 Vegan Pumpkin Pie Bites
2017-10-20 08:17:03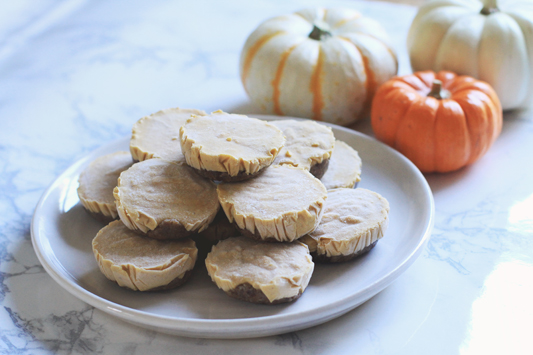 A healthier, no-bake version of pumpkin pie cheesecake!
Pecan Crust
1.5 cups raw pecans
1 cup medjool dates (soaked in warm water for 10 mins)
pinch of pink salt
Pumpkin Pie Filling
1.5 raw cashews (soaked in hot water for 1 hour)
1.5 Tbsp fresh lemon juice
1/4 cup + 1 Tbsp full-fat canned coconut milk
3 Tbsp melted coconut oil
1/2 cup grade A maple syrup
1/3 cup organic pumpkin puree
pinch of pink salt
1 tsp vanilla extract
1/2 tsp pumpkin pie spice
Instructions
Add 12 cupcake liners to a muffin tin.
Drain soaked medjool dates and add them along with pecans & pinch of pink salt into the bowl of your food processor. Process until a sticky dough forms. You may have to scrap the sides & process again.
Add about 1 Tbsp of crust mixture into each liner of your muffin tin and press down with your fingers to line the bottoms. Place in freezer for 15 minutes.
Meanwhile, drain soaked cashews and add them to your high-speed blender, along with the rest of your pie filling ingredients. Blend until smooth about 2 minutes. Add a little extra coconut milk, if it has trouble blending. Taste and add extra maple syrup if you prefer a sweeter treat.
Divide filling among the chilled crusts. Cover with plastic wrap & freeze again for about 4 hours.
Take out of freezer, allow them to thaw for about 15 minutes & enjoy!
Store leftovers in the freezer for about a week.
Notes
Remember to thaw them out before enjoying!
Adapted from The Minimalist Baker
VeryAllegra https://veryallegra.com/
Shop My look