Photography by Alana Harris
Hi Friends!
We are back from the Dominican Republic and happy to be home. The wedding we were there for was absolutely amazing. Even though we had a great time, it is always so nice to come home after a trip. I just can't believe that it is Thanksgiving this week!
If you are looking for an easy, yet healthy salad to add to the mix of indulgent Thanksgiving dishes then look no further. This Fall Kale Salad is just that!
Don't like healthy dishes at Thanksgiving?!
Make it after you finished all your leftovers to balance it all out.
I made it last week for dinner and served some sliced steak on top for the hubs and he even loved it! It is easy and keeps in the fridge for a day or two. You can also make all ingredients ahead of time and mix when you are ready to serve.
The Recipe…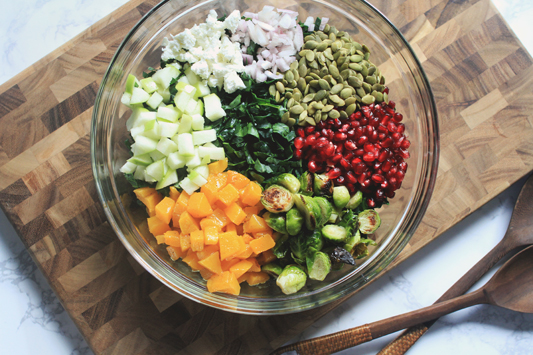 Fall Kale Salad
2017-11-20 19:16:25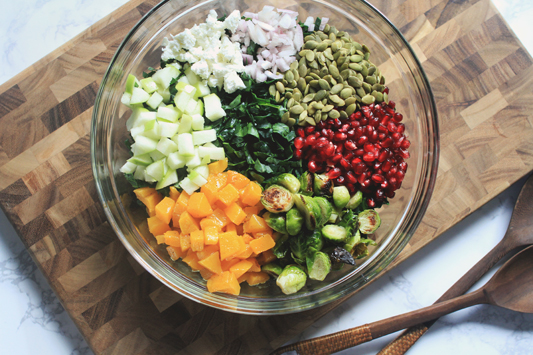 Serves 8
This Fall Kale Salad is so delicious and so easy to make.
For the Salad
1 bunch of Lacinato Kale, destemmed, & thinly sliced (about 6 cups of kale)
3/4 cup Butternut Squash, cut into small 1/2 inch cubes
1/2 cup Brussel Sprouts, halved
1/3 cup Pomegranate Seeds
1/3 cup Shelled, Unsalted Pumpkin Seeds
1 Tbsp Shallots, diced
1/2 Green Apple, diced
1/4 cup Goat Cheese (optional)
Dressing
1/3 cup Extra Virgin Olive Oil
2 Tbsp Apple Cider Vinegar
1 Tbsp Dijon Mustard
1 Lemon, juiced
1-2 tsp Maple Syrup
Pink Salt & Pepper to taste
Instructions
Preheat oven to 400.
Line 2 baking sheets with parchment paper.
On the first baking sheet, spread out butternut squash cubes & coat with about 1/2 Tbsp of Olive Oil, and pink salt and pepper to taste.
Repeat above with the brussel spouts.
Place both baking sheets in oven & roast for about 15-20 minutes, tossing around half way through. Remove from oven and allow them to cool.
Meanwhile, mix dressing ingredients in a small bowl until well combined.
Place kale in a large bowl & massage with clean hands for about 1 minute.
Add the rest of salad ingredients to bowl with kale.
Top with desired amount of dressing & mix.
Enjoy!
Notes
Ingredients can be made ahead of time and mixed together before serving. Also keeps in fridge with dressing for a day or so.
This salad is great for a light lunch or add some hearty protein for a delicious dinner. Also serve as a healthy Thanksgiving side!
VeryAllegra https://veryallegra.com/
Shop My look