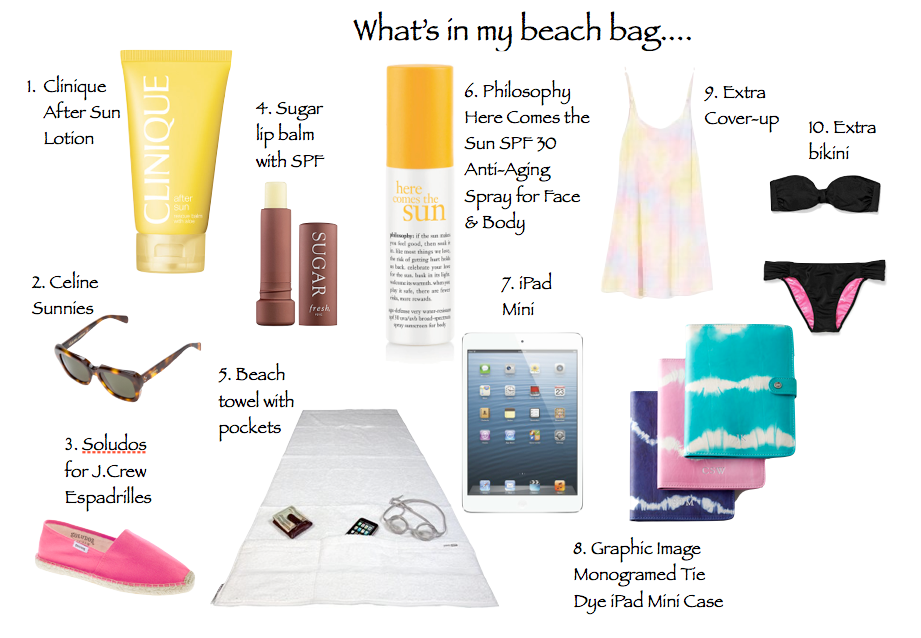 Happy Friday!
 After my last post, I received an email from a reader asking, "what are your beach essentials?" I thought a what great idea for a post! I am always throwing different products and things into my beach bag but here my Top 10.
1. Clinique After Sun Lotion: I highly recommend this product. After a long day at the beach, it is hydrating and helps to prevent peeling if you happen to have gotten too much sun.
2. Celine Sunglasses: I love sunglasses. My current favorites are my pair of Celines I got for Christmas.
3. Soludos for J.Crew Espadrilles: I love espadrilles, I think of them as a beach ballet slipper. They are cute and comfortable and you can't beat the sale price tag for just $18.74.
4. Fresh Sugar Lip Balm with SPF 15: This chap stick is so hydrating, even for severely chapped lips. It also contains SPF, so you don't have to worry about painful sunburnt lips. Fresh also makes several tinted shades, available here, here, and here.
5. TOWELSAFE: Beach-safe pocketed towel: You always need a towel on the beach,  this one has pockets to collect all your belongings.
6. Philosophy Here Comes the Sun SPF 30 Anti-Aging Face and Body Spray: Let's face it sunscreen is very important, and I know I am not the first to tell you that. I like how this product doubles for face and body in a gentle spray.
7. iPad Mini: I love my iPad Mini, it pretty much goes with me everywhere. It's perfect for reading books, magazines, playing games, or surfing the web.
8. Graphic Image Monogrammed Tie-Dye iPad Mini Case: This case is perfect for Spring and Summer! It is so cute and chic with its personalized monogram detail and tie-dye pattern. The perfect gift for a friend or yourself!
9 & 10. Extra cover-up and bikini: My mom always taught me that you never know where a beach day may take you, so it is better to always be prepared. Therefore, I always have an extra dry suit and cover-up in my beach bag for whatever comes my way!
Shop my beach bag essentials…
What are your beach bag essentials? Leave a comment with your favorites! Hope you enjoyed this post! If you have any recommendations or questions please feel free to "Ask Allegra." Also, the new blog design should be up and running by tomorrow! So excited for you all to see it!.