Glass Bowls: Williams & Sonoma
Spoons: Ricci Argentieri
Placemats: Pomegranate

Hi friends!
Let's try this again…I had this post ready to go and hit post and it disappeared into cyber space. So frustrating after putting a few hours into all the details. Anyways here we go again.
About the Raw Oatmeal…
When I decided to start sharing recipes on the blog, this raw oatmeal one was on the top of my list. It is my FAVORITE "overnight oatmeal" and I am excited to share it with you. If you follow me on snapchat, you have definitely seen how often I make this recipe. My hubs even likes it too! Last summer, we were in Southampton for a quick weekend and stopped by Juice Press for a green juice. They had samples of their raw oatmeal and we grabbed one on our way out. We couldn't believe how tasty it was. Cachi (my husband) and I kept trying to get back to Juice Press that weekend to get a full size order but unfortunately ran out of time. So of course I turned to my trusty Pinterest for a copycat recipe & I came across this one.
Adapting the recipe…
At first, I thought this recipe looked a bit intense. However, after my first attempt, I realized it just needs some prep since you have to soak the oats & cashews ahead of time. Besides that it is pretty easy! I have made it so many times that I kind of wing it and try something new each time. For example, I use regular almond milk or coconut milk instead of canned coconut milk. I also discovered, I like to use coconut manna instead of coconut oil. Coconut manna is pure, pureed coconut meat instead of just the extracted oil. I find it gives the oatmeal a creamier taste. The original recipe also calls for vanilla paste (which you have to scrap out a vanilla bean to get the paste), but I find it easier and just as tasty to use vanilla extract.
About the chia jam…
Raw oatmeal not your thing? I recommend still giving the Raspberry Chia Jam a try. It is a healthier version of your everyday jam and is so delicious. I love it on my avocado toast! It would also be delicious served with goat cheese or baked brie and crackers for a crowd-pleasing appetizer.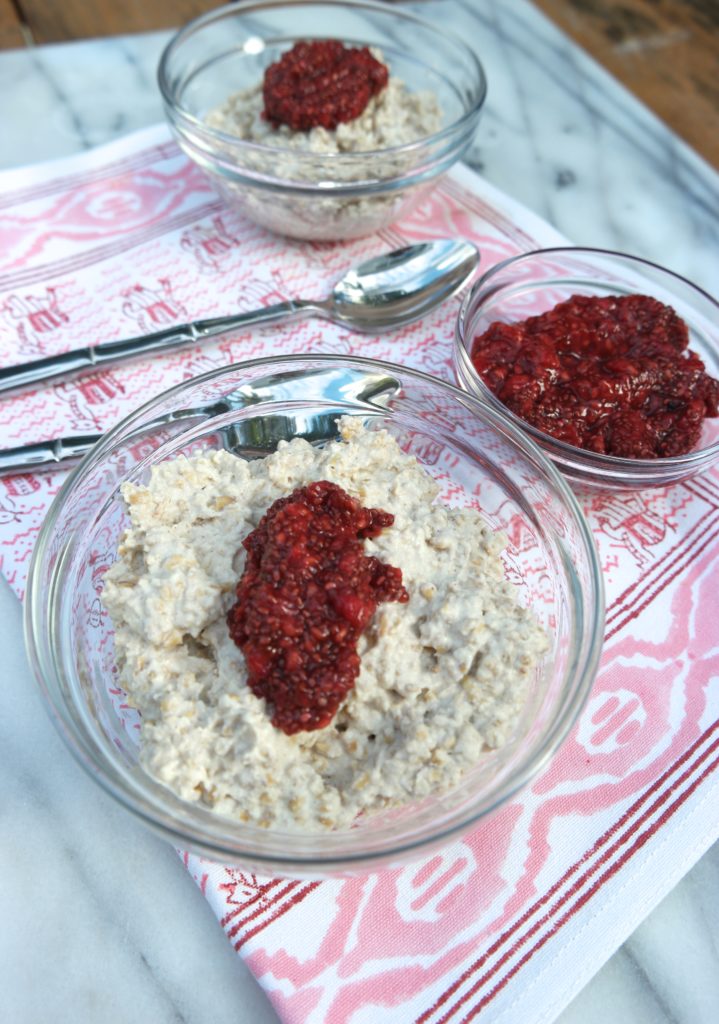 Raw Oatmeal Recipe with Raspberry Chia Jam
2017-01-31 12:51:44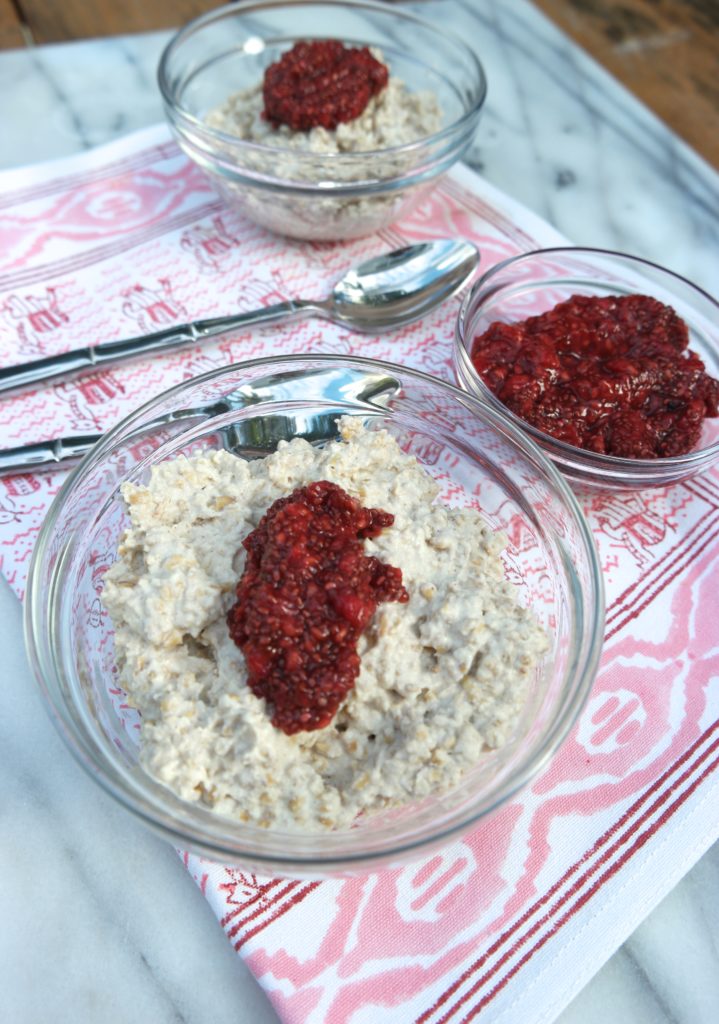 Serves 4
A delicious raw oatmeal that tastes indulgent but is healthy & will keep you full for hours. This recipe works to double it also.
For Oatmeal
1 cup steel-cut oats
2 cups water
1/4 tsp pink himalayan salt
1 cup raw cashews
2 cups water
4-5 pitted medjool dates
1/2-3/4 cups unsweetened vanilla almond or coconut milk
2 tbsp melted coconut manna (or coconut oil)
1 tsp vanilla extract
dash of ground cinnamon
1/4 tsp pink himalayan salt
For the Raspberry Chia Jam
1 cup raspberries
2-3 tbsp local honey or maple syrup
1/2 tsp of vanilla extract
juice of half a lemon
1 tbsp chia seeds
For the Raw Oatmeal
Soak the oats overnight (or at least 8 hours)
Soak cashews overnight but no more than 8 hours (they will start to taste weird)
In the morning (or after soaking), put soaked oats in a nut milk bag or sieve & drain over bowl for at least 5 minutes.
Drain the cashews and place in high-speed blender (I use a Vitamix) along with the dates, milk, coconut manna (or coconut oil), vanilla, cinnamon, & salt.
Blend for about a minute, until completely smooth. Add a little more milk if not blending
Taste - add more dates if you want it a little sweeter & more milk if you like a more fluid consistency.
Combine the blended cashew mixture with drained oats in a large bowl and mix.
Serve with Raspberry Chia Jam.
For the Raspberry Chia Jam
Combine raspberries, honey (or maple syrup), & vanilla extract in a small saucepan over medium heat.
Bring to a boil, lower heat & simmer for 1 minute.
Remove from heat & add lemon juice.
Allow to cool completely & then mix in chia seeds.
Transfer to a glass jar & place in fridge for at least 2 hours so the chia seeds sprout.
Adapted from The Theory NYC
VeryAllegra https://veryallegra.com/