Happy Friday friends!
I am so excited to share this recipe with you! My husband and I love getting the kale salad at the Palm Beach Grill, which is a Hillstone Restaurant here in Palm Beach. The kale salad is available at Houston's, R&D Kitchen, The Honor Bar, and probably more but those are the ones I have visited. So if you have enjoyed the kale salad at one of these locations, you need to make this recipe!
MMMM, kale salad…
If you haven't been to one of these restaurants, you should still try and make this recipe. I made it last night along with grilled chicken & baked french fries. It was so tasty and I am about to have a bowl of leftovers for lunch. Like my brussel sprout caesar salad, this is another great salad that stays good and doesn't get soggy, making for delicious leftovers.
A few recipe notes…
I used coconut liquid aminos because I am trying to cut back/out my soy intake, but feel free to use regular soy sauce! There is usually mint and cilantro in the recipe but my friend doesn't like cilantro and she was over for dinner so I left them both out. They were not missed. I also used some of my vegan parmesan, recipe here, but feel free to use regular parmesan or none!
This little gadget is perfect for destemming the kale very easily. And this dressing container is awesome!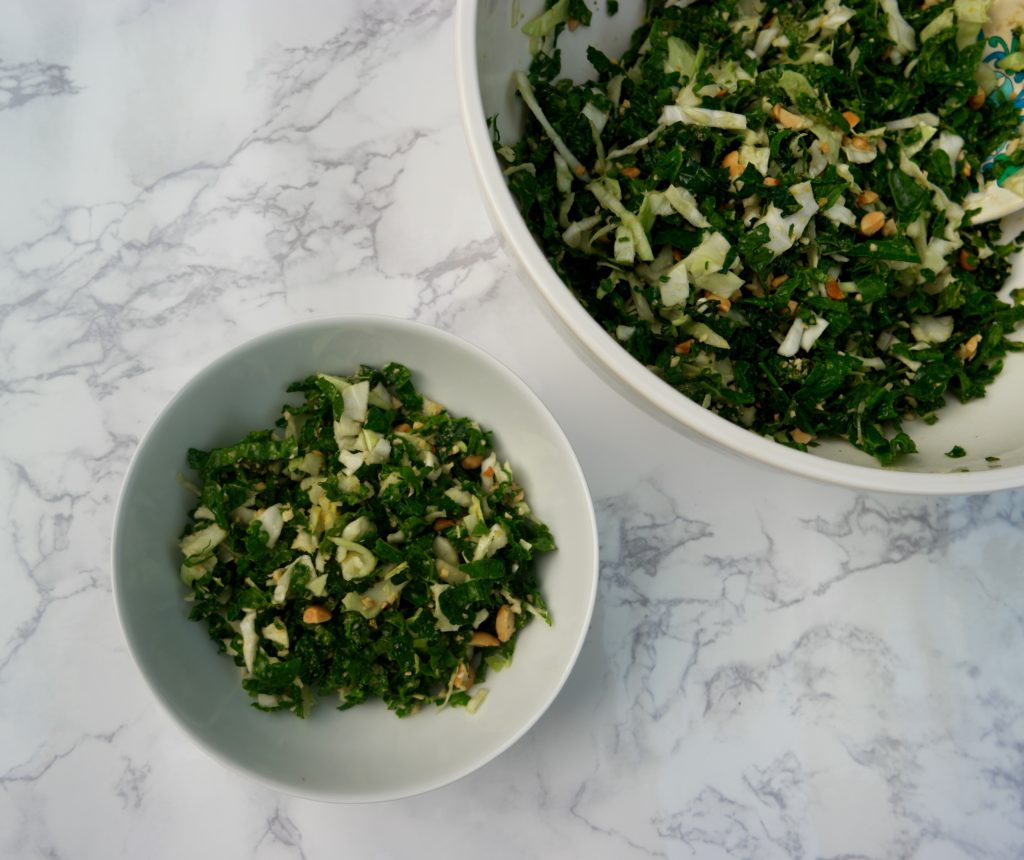 Kale Salad with Peanut Dressing inspired by Hillstone Restaurants
2017-04-07 10:55:37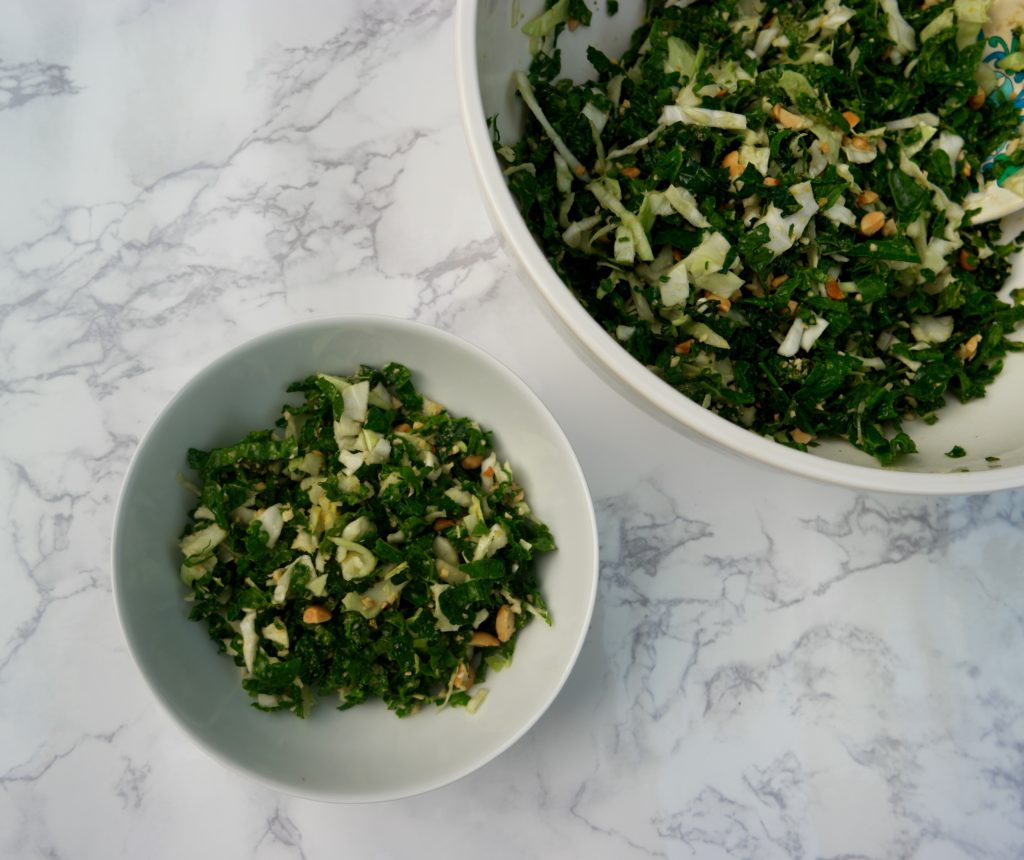 Serves 6
Whether you have been to a Hillstone Restaurant that carries this kale salad, you will love this!
For the Dressing
3/4 cup peanut oil
1/4 cup rice vinegar
1/2 tsp sesame oil
1 lemon juiced
2 tsp honey
1 tsp black pepper
1 tsp dijon mustard
1 tsp Worchestershire sauce
1-2 Tbsp coconut liquid aminos (or soy sauce if you prefer)
1 tsp water
1 tsp minced garlic
For the Salad
1 bunch of lacinato kale - destemmed, thinly sliced
1/2 cup green cabbage - thinly sliced or shredded
1/2 - 3/4 cup unsalted, roasted peanuts - roughly chopped
1/4 cup vegan or regular parmesan
Instructions
Mix all ingredients for dressing into a jar or dressing container and shake throughly.
Wash, dry, and massage kale. By massaging the kale it helps break down the cell structure, helping with the bitter taste.
Add kale, cabbage, peanuts & parmesan to a bowl
Toss with desired amount of dressing. I like to massage again in order to really get the salad coated.
Serve & enjoy! This also keeps in the fridge for leftovers!
Notes
I used my vegan parmesan (recipe posted with brussel caesar salad) but feel free to use regular parmesan or leave it out.
At the restaurants, they use mint & cilantro in the salad but I was making it for a friend that doesn't like cilantro so I left both herbs out and didn't miss them.
Adapted from Beauty & the Beets
VeryAllegra https://veryallegra.com/
Shop My look