Photography by Alana Harris
Necklace: Very Allegra
"Love" Ring: Allegra Fanjul
Ceramic Mugs: Avenue Pottery
Tank: Calypso St. Barth < similar here >
Jeans: Levis's

About these ceramic mugs…
I have been looking for some pretty ceramic mugs (without handles) for awhile. So I was very excited when I found them from a local West Palm Beach artist, Avenue Pottery. The creative behind Avenue Pottery, Lani Goodrich, hand makes everything out of her backyard studio. She is a self-taught potter specializing in unique, yet classic, handmade items for the home. You can check out more of her pieces here & follow along on Instagram here.
Let's chat matcha!
If you follow me on Instagram & check my insta stories, you may have noticed that I love my matcha latte & drink one just about every morning. I used to make this same recipe with coffee but slowly converted over to matcha. Now, I loveee the taste and this recipe keeps me full for a long time. Therefore, I enjoy this when I wake up (after chugging at least 1 bottle of water with or without lemon), then I workout and then have breakfast. You may read the recipe below and think what the heck are some of these ingredients?! So I decided to break them down for you…
16 oz of hot water + milk of choice
I like to use about 16 oz of hot water + about 1/2 cup of almond or coconut milk to make a good amount of matcha. Then, I keep the latte in a Hydro Flask insulated bottle in order to keep it hot and then pour over ice or into a mug. You don't want to just pour it all just into a regular mug (unless you are going to drink it all right away) because as it cools it may congeal (due to the ghee).
Matcha Powder
Lately, I have been trying several different brands of matcha powder, my favorite so far is this Kenko one. It isn't as important to get organic matcha as it ceremonial grade matcha. Ceremonial grade ensures the highest quality and therefore, the best taste. Also, I like to sift the powder into the blender (using one of these) rather than just dumping it in. This will get any clumps out and guarantees an even smoother latte.
Bulletproof Brain Octane
Brain octane is a concentrated form of coconut oil. It is a reliable & quick source of energy that helps your body burn fat. It also supports cognitive functions and helps keep you satisfied. Read more here.
Fourth & Heart Vanilla Ghee
Healthy fats! The healthy fat from the ghee and the brain octane help keep you full & satisfied, while also balancing hormones.
Vital Proteins Collagen Peptides
Remember this post about collagen?! Check it out for all the benefits. I have been using a scoop everyday since the end of January and I really have noticed a difference in my skin. It seems to glow and the little wrinkles I worried about don't seem as noticeable. The collagen also helps make the latte extra frothy.
Cinnamon
Did you know cinnamon is great for regulating blood sugar?!
Adaptogens….
I am still learning about adaptogens and really like trying new ones. They are made from herbs and help balance hormones in different ways. I don't use the same combination every morning because I like to switch it up depending on how I feel and what I have going on that day. However, you can't use an adaptogen for a week and expect to see change, it is a slow process. I recommend doing your own research and seeing what may work for you. They are pricey, however, they do last a long time since you are only using 1/2 at a time. The information below was sourced from the Sun Potion website.
Tocos
Tocos is a great source of Vitamin E, which helps promote healthy skin and connective tissues. It also aids in the removal of toxins from the body. It is made from rice bran and adds a bit of a creamy taste to your coffee or matcha. (I use this one everyday.)
Reishi
Reishi is made from a type of mushroom and is often called the "Queen Healer." Reishi is said to aid in stress relief, as well as supporting your immune system. It is considered a longevity tonic. It promotes calmness, centeredness, balance, inner awareness and inner strength.
Cordyceps
Cordyceps is another mushroom derived adaptogen. It may support oxygenation of the body, mental power, athletic endurance, sexual energy, muscle tone, & a healthy immune system. I like to take this one before or after hard workout.
Ashwagandha
Ashwagandha is a super antioxidant that may tonify the immune system, inspire vigor & strength, harmonize mind, body, & spirit, as well as reduce the effects of mental, emotional, and physical stress.
Mucuna Pruiens
After reading this article, I learned this adaptogen is great for aiding in focus. Adding Mucuna Prunes to your latte may enhance brain function, elevate mood, refine sense, sooth the nervous system, and support overall well-being.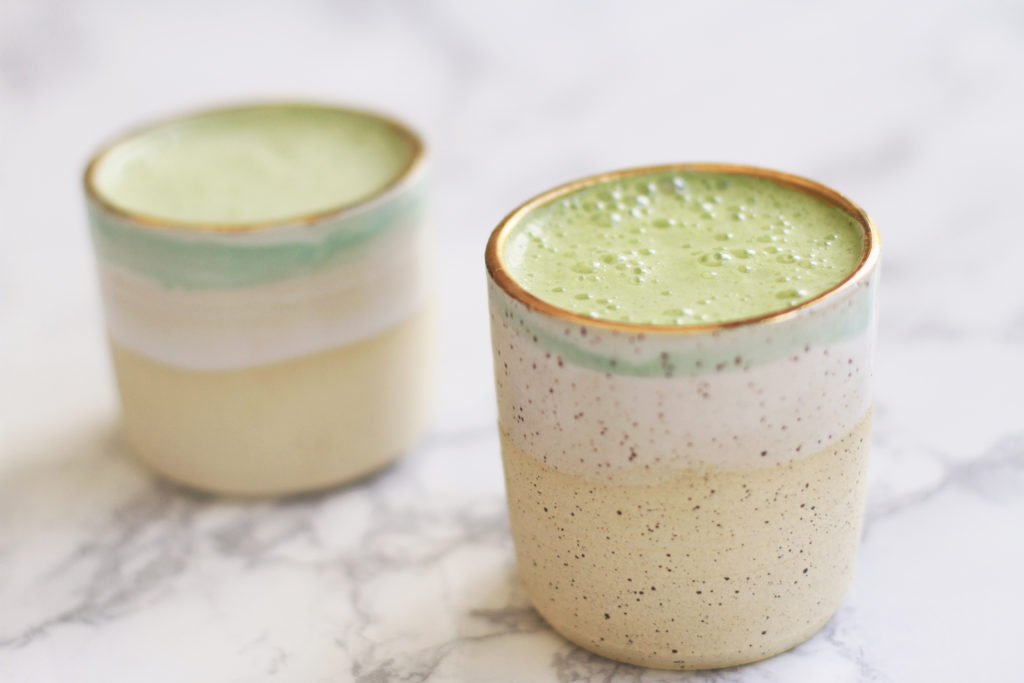 Matcha Latte
2017-06-29 10:46:58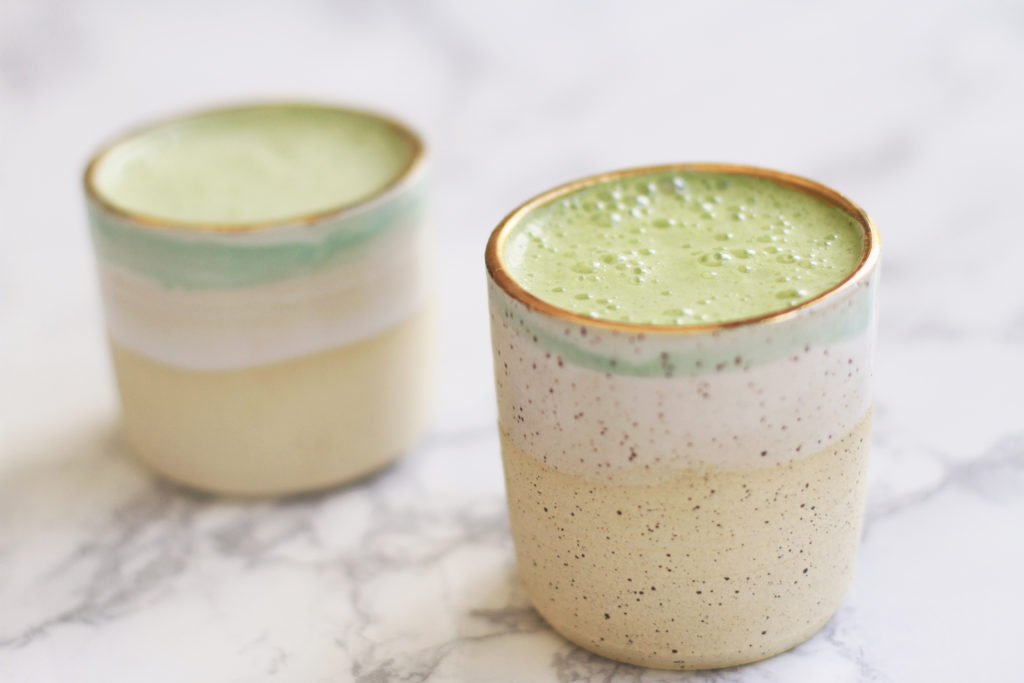 My go-to Matcha Latte recipe for every morning.
Ingredients
16 oz of hot water
1/2 cup almond or coconut milk
1-2 tsp of matcha powder
1 Tbsp of Bulletproof Brain Octane
1 Tbsp Fourth & Heart Vanilla Ghee
1 Scoop Vital Proteins Collagen Peptides
1 tsp Sun Potion Tocos
Few Dashes of Cinnamon
1/2 tsp of Vanilla extract
Optional*
2-3 of any of the following adaptogens.
1/2 tsp Sun Potion Cordyceps
1/2 tsp Sun Potion Reishi
1/2 tsp Sun Potion Ashwagandha
1/2 tsp Sun Potion Mucuna Pruiens
Instructions
Add all the ingredients into your blender (I use a Vitamix) & blend for about a minute, until frothy.
Pour into insulated bottle (linked below) to keep hot and pour over ice if desired. (I keep it in a Hydro Flask because if it cools down too much the ghee will congeal.)
Enjoy!
Notes
* I like to add a combination of these adaptogens in my matcha every morning to help balance hormones. However, you can still make this recipe without them and it would be just as delicious!
VeryAllegra https://veryallegra.com/
Shop My look