Photography by Alana Harris
Glass: Wedding gift from Pineapples & Palms
Necklace: Very Allegra

Hi friends!
Today I am sharing my go-to smoothie at the moment. Lately, if I am home, I have been making smoothies for breakfast everyday. After reading celeb nutritionist, Kelly Leveque's new book, Body Love, I seriously can't stop. The book teaches you about nutrition instead of "eat this and not that." She wants everyone to ditch the diet mentality because it is only hurting us in the long run. Kelly believes that if you eat a certain combination of food than you will feel full for hours. She named the combo FAB FOUR and it is protein + fiber + greens + healthy fats.
The recipe…
Her book includes a ton of recipes, including about 50+ FAB FOUR Smoothie recipes. I have been trying a bunch but my current fave is the Mint Chip. Now whenever I make it I add a few extra healthy ingredients for an extra health kick. This smoothie seriously keeps me full for hours. And let's be honest, that is not usually the case with smoothies. You may notice that there is no fruit in this smoothie and to be honest, I don't really miss it. However, if you like a little thicker/sweeter smoothie, add 1/2 a frozen banana.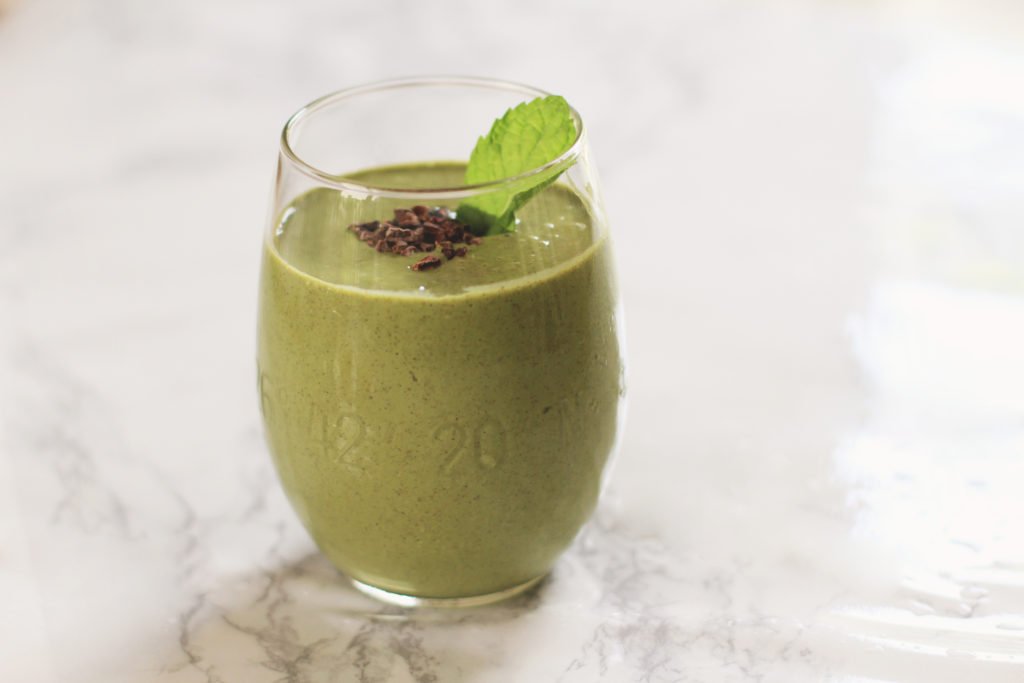 Mint Chip Fab Four Smoothie
2017-09-20 10:49:47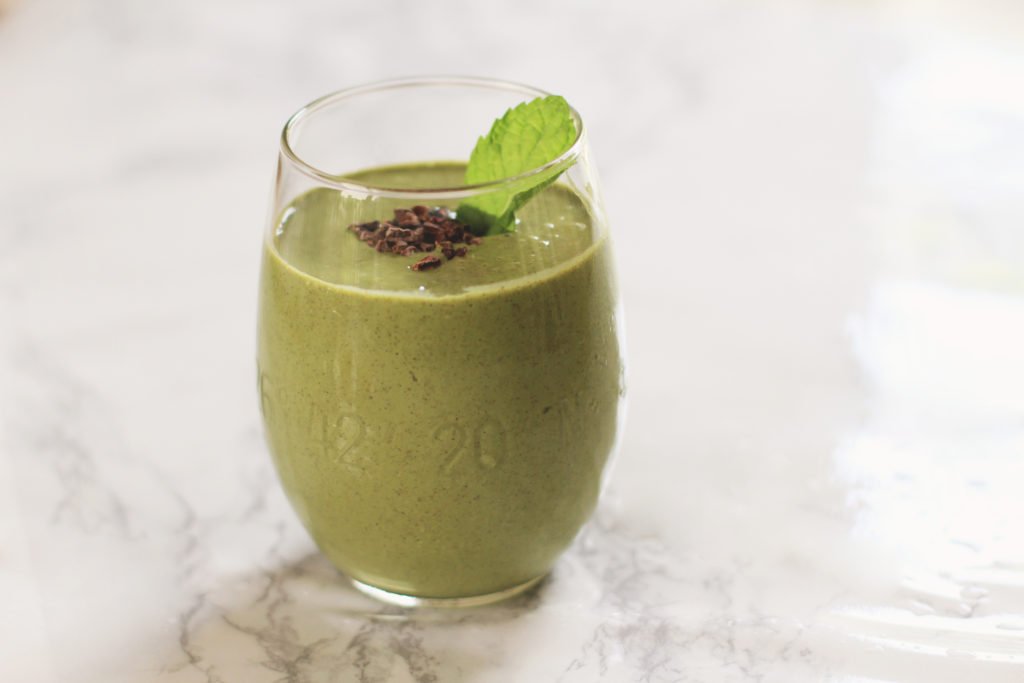 Serves 1
A tasty minty smoothie that will keep you full for hours.
Ingredients
1-2 Cups Unsweetened Vanilla or Plain Almond Milk (or nondairy milk of choice)
1 Handful of Spinach
1 Small Handful of Fresh Mint Leaves (about 5-10 leaves depending on how minty you like it)
1 Scoop Vegan Vanilla Protein Powder
1-2 Tbsp of MCT oil or Brain Octane
2 Tbsp of Chia Seeds
1/2 - 1 tsp of Cacao powder (optional)
1/2 - 1 tsp of Cacao nibs (extra for garnish)
1-2 Handfuls of Ice
1/2 Frozen Banana (optional)
Instructions
Blend all ingredients until smooth.
Pour into a glass & top with extra cacao nibs & mint leaf.
Notes
If you want a little more sweetness and thickness to your smoothie add 1/2 frozen banana.
Adapted from Body Love by Kelly Levee
VeryAllegra https://veryallegra.com/
Shop My look