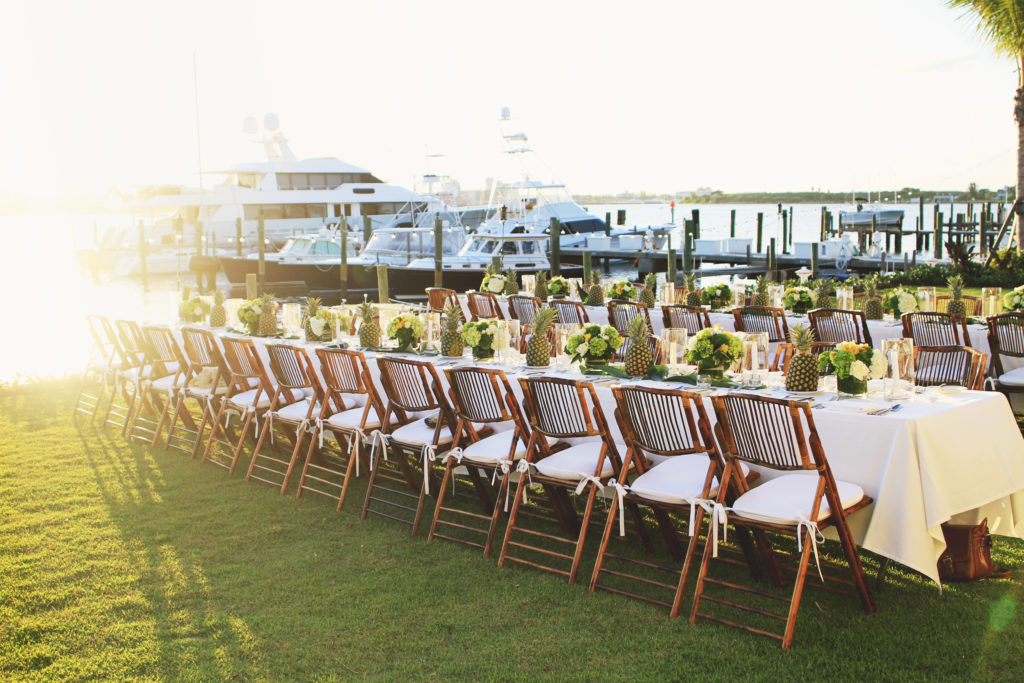 Photography: Alana Harris Photography
My Look: Top: Needle & Thread // Skirt: Needle & Thread // Shoes: Aquazara // Earrings: Allegra Fanjul // Hair: Linda Nehrboss
Happy Monday friends! 
Better late than never, right?!
Hope you guys believe in better late than never, because I just got the pictures from our rehearsal dinner from my mother-in-law. I seriously can't believe it has already been almost 6 months since the wedding! It feels like yesterday & I still just want to rewind. I wanted to share a few pictures from our rehearsal dinner because I was OBSESSED with how my mother-in-law decorated.
About the night…
You may remember that we were supposed to get married in the Dominican Republic, but due to the growing concern of Zika & my sister announcing she was pregnant, we decided to keep the wedding in Palm Beach, Florida. My mother-in-law had wanted to recreate < this look > from India Hick's Island Style book < available here. > We told her she should definitely keep with the theme, even with the change of venue. I was obsessed with the pictures from the India Hick's book that I knew it would look fabulous. I also loved the idea of pineapples as centerpieces!
After a brief church rehearsal, we headed to the Sailfish Club for dinner. When I first saw the beautiful tables over looking the water and the sun setting, I had to take a minute to take it all in. I was in awe and just so excited that the wedding weekend was just beginning. The weather was also picture perfect, if you can't tell!
< We had the rehearsal dinner on Thursday night, Tropical Chic Cocktail Party (details here) on Friday night, Wedding on Saturday, & brunch on Sunday >
After enjoying a glass of champagne and mingling with our close family that were invited, we sat down for dinner & speeches. I was touched by all the kind words that our family and friend's had said about Cachi & I, that I couldn't help shed a few tears.
About my look…
I found this look on Pinterest & was immediately in love, but wanted to shop around before I made the final decision. After trying on lots of white dresses, I didn't like anything. So I caved & ordered this two piece set from Needle & Thread's Bridal collection. I have already worn the crop top again & can't wait to rewear the skirt. The skirt has some serious twirl appeal, see the video I posted on Instagram < here >
Another fun detail…
We wanted to have a personalized snapchat filter for all of our weddings events. So I ordered a custom illustration of Cachi & I by Joanna Baker < check out her Instagram here > Then a friend of mine made it into a filter & we submitted it < here > It is definitely a fun & extra special touch for all those snapchatters attending!