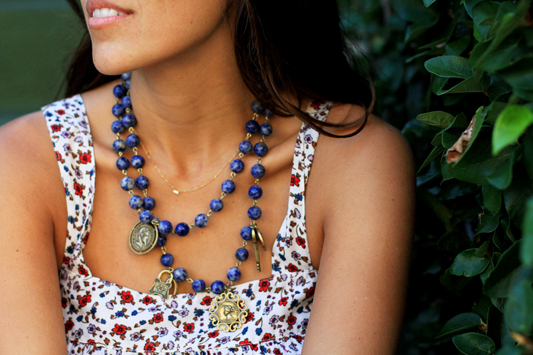 Photography by Alana Harris
Necklace: Very Allegra
Floral Midi Dress: Xirena from GRACE Boutique
Sandals: Hermes < look for less here >
Handbag/Backpack: Hermes

Hi from the Dominican Republic!
We arrived in the Dominican Republic yesterday afternoon & even though I am writing this post & making jewelry, I am in full relaxation mode. Also, one of my besties (since kindergarten) is about to arrive to spend the weekend with us! So I am beyond excited!
About this floral midi…
I found this floral midi dress from GRACE boutique, what's new… A lot of my clothes have been from there recently because everything is just too cute. This floral midi dress is definitely no exception. It is SO comfortable to wear. It makes for a casual, yet put-together look. I brought it down to the Dominican Republic for this weekend because I can't stop wearing it. I think it would also look great belted & paired with wedges to give it the same amount of comfort but a slightly different look.
I love a good midi dress because I think they are effortlessly chic. I have found so many I love right now so I decided to share a few of them below!
A little about my backpack…
My husband gave me this vintage Hermes backpack/handbag for Christmas and I haven't stopped using it since. It actually comes 2 in 1 and has a bigger canvas that you can swap the leather straps too for a different look. I am obsessed to say the very least.
I am now off to get a light workout in before my friend arrives! Hope everyone has a great day!