Photography by Alana Harris
My go-to favorite asian salmon bowls…
These are our favorite asian salmon bowls for an easy weeknight dinner. My husband likes his over sushi rice with some zucchini noodles and I prefer mine without the rice. The marinade is light but super flavorful and doubles as a dressing for the bowl as well. It also works with chicken or even steak if salmon isn't your thing. Feel free to make more than 2 pieces of salmon if you are feeding more or want leftovers. There is no need to double the marinade recipe.
Get creative…
The ingredients I listed for the bowl are definitely not set in stone. I encourage you to get creative and try other things. The salmon would be great over my cauliflower "fried rice" (see recipe here) or keep the sushi rice & add carrots, bean sprouts, stir fry veggies, whatever you want!
The recipe…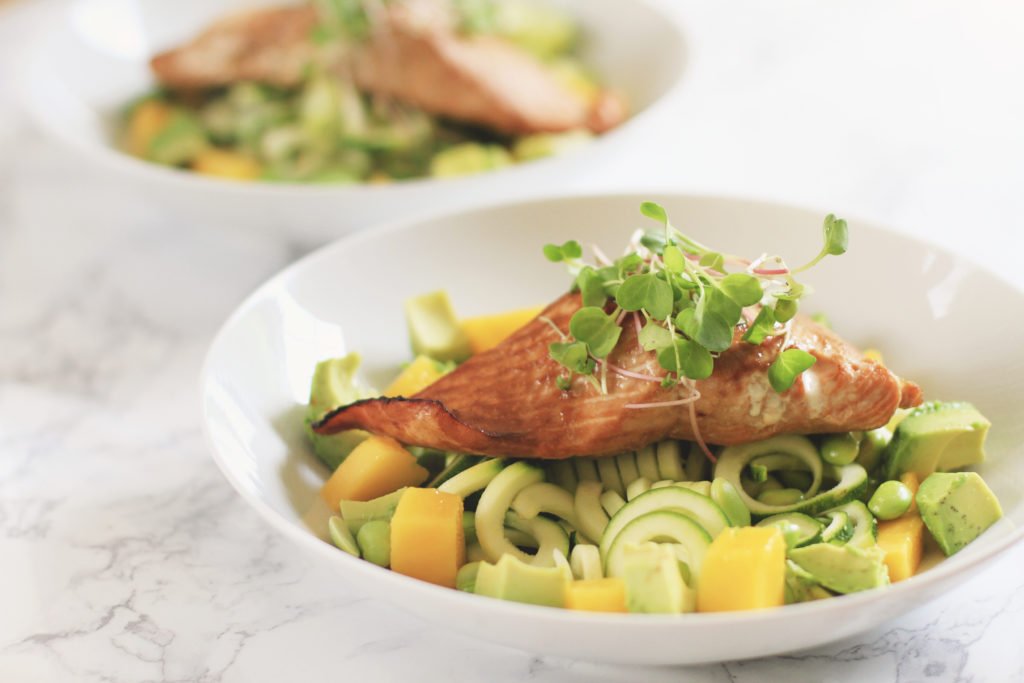 Asian Salmon Bowls
2017-09-06 13:29:59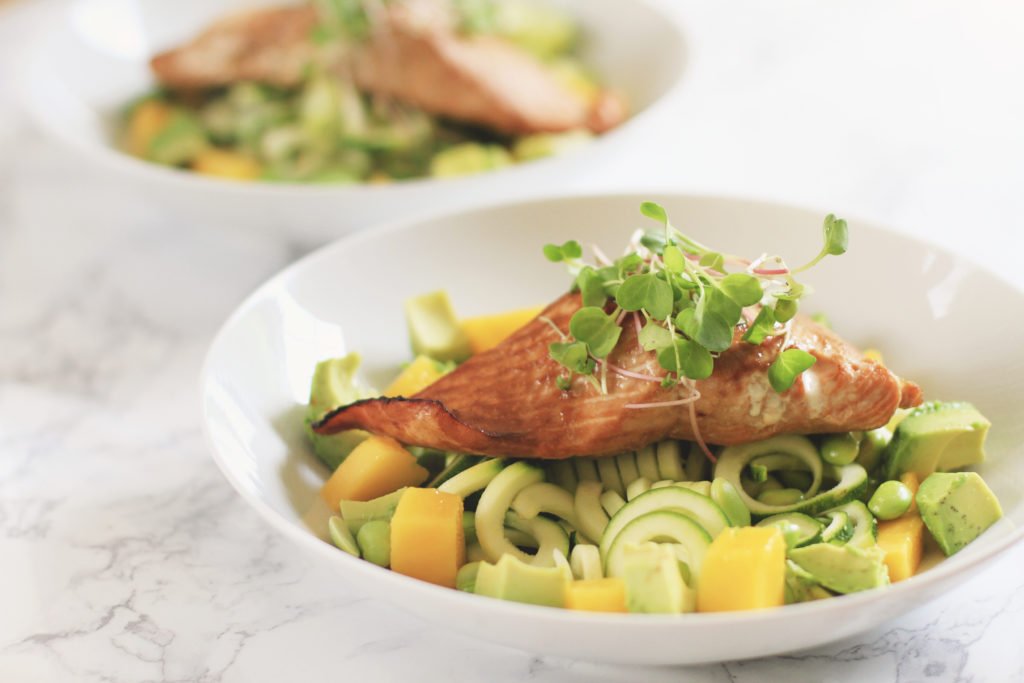 Serves 2
Our favorite salmon recipe for easy weeknight dinners.
Marinade/Dressing
Makes about 2 cups
1/2 cup low-sodium tamari sauce or Bragg's liquid aminos
2 Tbsp cane sugar or coconut sugar
1/4 rice vinegar
1 Tbsp sesame oil
1/3 cup water
1/3 cup low-sodium ketchup (I use Annie's brand)
Pinch ground ginger
Pinch ground coriander
1/2 tsp crushed red pepper flakes
2 tsp minced garlic
2 tsp minced fresh ginger
2 Tbsp of water
2 Tbsp low-sodium tamari sauce or Bragg's liquid aminos
For Bowls
2 Salmon filets
1-2 cups Sushi Rice + 2 tbsp rice vinegar
1 zucchini, made into noodles
1 avocado, diced
1 mango, diced
1/3 cup cooked & peeled edamame
Microgreens for topping (optional)
1 lime, cut into wedges
For Marinade/dressing
In a medium saucepan, combine 1/2 cup tamari (or liquid aminos), sugar, rice vinegar, sesame oil, and 1/3 cup of water over medium heat.
Bring to a boil.
Add ketchup, ground ginger, ground coriander, crushed red pepper flakes.
Simmer for 10 minutes and then remove from heat.
Add garlic, minced fresh ginger, 2 Tbsp of water, 2 Tbsp tamari (or liquid aminos) and stir until combined.
Allow to cool before pouring about 1/3 of the marinade over salmon filets or until almost covered.
Cover with plastic wrap and let sit in fridge for at least 30 minutes, no more than 3 hours.
For Bowls
Prepare sushi rice according to package instructions. I cook mine in a rice cooker and once its finished I add 1-2 tbsp of rice vinegar to make it extra sticky.
Preheat oven to 400 degrees.
Line a baking sheet with parchment paper and add marinaded salmon so they aren't touching.
Bake in oven for about 12-15 minutes or until fork tender.
Finish the salmon in the broiler for about 2-3 minutes for an added crispy finish and remove from oven.
Assemble the bowls.
Add rice and/or zucchini noodles to a bowl.
Top with diced mango, avocado, edamame.
Top with salmon & drizzle with extra dressing.
Top with microgreens if using & serve with lime wedges.
Serve immediately.
Store extra dressing in an air tight container in the refrigerator for up to 3-4 days.
Notes
Feel free to make more than 2 pieces of salmon if you are feeding more or want leftovers. No need to double the marinade recipe.
Oven temperatures may vary cooking times.
Adapted from Chef Mark Gonzales
Adapted from Chef Mark Gonzales
VeryAllegra https://veryallegra.com/
Shop My look