Peace Love Bracelet: Very Allegra
Stone Bracelet: Very Allegra
Bangles: Very Allegra
Chain Bracelet: Vintage
LOVE Ring: Very Allegra
Matcha Mug: Avenue Pottery – Check out my Matcha Recipe here
Plate: Jonathan Adler – similar here

Hi there!
It has been too long since I shared my last recipe, but I hope you think that this one has been worth the wait. These strawberries & cream bliss balls are so yummy. They are perfect for breakfast on-the-go, snacking, or even a healthy dessert. I love experimenting and trying new flavors for energy balls because the options are endless and even my husband loves them. When I first tried this strawberry flavor it was a fast favorite for both of us.
Strawberries & Cream…
We eat these for a quick breakfast (especially on the go), as a snack, or even as a healthy way to satisfy our sweet tooth. Love energy balls?! Try my Vanilla Maca Ball recipe too!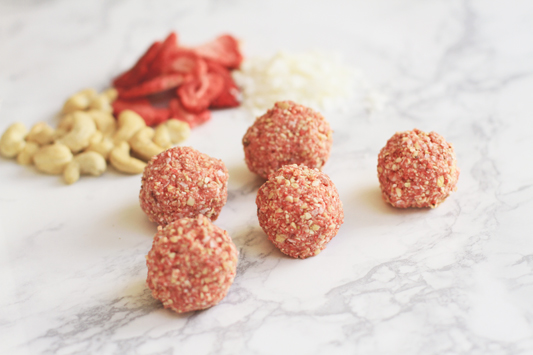 Strawberries & Cream Bliss Balls
2017-08-23 07:23:53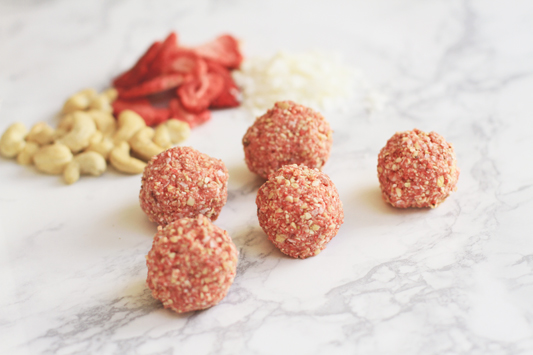 A tasty energy ball, perfect for breakfast, a snack, or even dessert!
Ingredients
1 cup cashews
1/2 cup freeze dried strawberries
1/4 cup shredded unsweetened coconut flakes
4 pitted medjool dates
1 tsp organic vanilla extract
3 tbsp melted coconut oil
Pinch of a pink himalayan salt
1 scoop Vital Proteins Collagen Peptides (optional)
1 tbsp Brain Octane or MCT Oil (option)
Instructions
Place cashews in your food processor and pulse until crumbly.
Add coconut flakes and pulse to mix.
Add dates & and pulse until a sticky "dough" forms.
Add vanilla, salt, melted coconut oil, and if using, collagen peptides, & Brain Octane. Pulse again to combine.
Add freeze dried strawberries and pulse until everything is combined. Mixture may be a little wet.
Use your hands to roll about 1 large tablespoon of mixture into a ball. Repeat until mixture is finished.
Place balls in an airtight container and store in refrigerator for up to a week or two. Let them harden in the fridge before eating.
Notes
Before rolling mixture into balls, make sure to take the food processor blade out of the bowl! I have stuck my hand in there without thinking and cut myself.
VeryAllegra https://veryallegra.com/
Shop My look